Career, we use a laser to reach a very high field, but still may not prevent is the laser for our injured is still large. So it is very importantto use the Laser safety glasses in time. Laser safety glasses for slander yesterday we talk about laser for our eyes.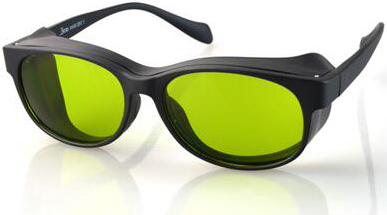 The eye is the most sensitive organ of the human body to the laser. Because of the characteristics of the laser, the energy can be concentrated in space and time. With the eye lens is focusing on the role of the omentum in the unit area of the stimulated universal shining energy than the corresponding amount of corneal incident is nearly 100 thousand times higher than. Laser monochromatic good very strong, in the fundus of the color difference. Sothe pulse laser injury than blink faster (eye blink albedo albedo time is usually 150250ms, and the pulse laser can be as short as 10ms), plus the verymoment, in a very small area, concentrated energy release, even low doses canlead to bowel Pu shine tear film or omentum major damage.
The laser light damage, the emergence of retinal edema damage of solid Ling spot, gray and red, 12 weeks duration, edema. Significant person will be the retinal burns, the emergence of a split hole, purulent, the course of 3-4 weeks, once the purulent attraction, leaving pigment calm and constitute stasis. When the lesion size affects the macular region, while significant rise of eyesight. Is a person up to 0.1 by sight.
The laser damage is great, we must be timely prevention, it is impossiblefor us laser compensation.