In wearing a suitable laser goggles is tostrengthen the protection of the eyes, to prevent the laser effect of botheyes. How is the safety specification of the laser protective mirror? Thefollowing is a simple understanding of the safety specifications of the laserprotective mirror, let us in the purchase and purchase to ensure the safetyfunction of the laser protective mirror.
The laser protective goggles also known aslaser glasses, laser protective glasses, laser goggles, safety equipment isnecessary for laser workers. The laser protective goggles is directly relatedto the safety of human health, can not tolerate the slightest mishap, thereforein the production and acquisition of laser goggles when first need to thinkabout the safety of the laser, as far as possible the use of laser goggles withrelevant safety certification.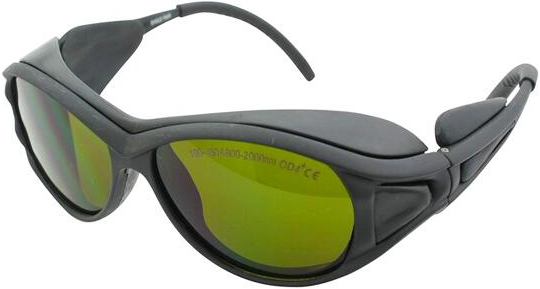 Wilkes is the general agent of NOIRphotoelectric laser goggles, buy NOIR laser goggles look for Wilkes photo.
First, the first laser safety standards,and now the world's first laser protective mirror security rating is the UnitedStates Z136 ANSI specification and the European Union EN207 certification CEspecification. China also has a safety specification for the laser protectionmirror: the primary parameter test method for laser protective glassesGBT17736-1999. Laser safety grade and standard NOIR will take OD parameters,laser goggles CE symbol and L grade printed on laser goggles, so use that.Wilkes photoelectric professional to provide support for the selection of laserprotective mirror.
American Z136.1 ANSI specification isrelatively simple, can be directly seen the laser transmittance, through theoptical density (Optical, Density OD) to measure. The optical density indicatesthe ability of the laser protection mirror to receive the laser radiation, andthe logarithm of the optical density is inversely proportional to the logarithmof the transmittance, the logical relationship between the optical density ODand the transmittance T: T D=-log10. In the transmittance of 1%, for example,the optical density of OD2+ is D.
Laser goggles can help more people in theuse of the progress of the protection of the efficiency of the eyes, the use ofthe expected to be able to think about the safety of the laser, to ensure thatthe use of our production of laser goggles. Together we hope that we can pickour laser protection mirror as the use of the target, safe and beautiful usefullaser protective mirror is much more people's favorite.
Thispaper provided by radium screen science and technology, please indicate that radiumscreen technology provideLaser safety glasses, goggles, Laser safety eyewear, Laser safety goggle蓝洞棋牌苹果手机 andother products, please login (lsys789.cn) consulting