The days in the most time we have to useevery kind of type of equipment, types of data, for us the most peculiarundoubtedly is applying to light, especially the laser light is not solid, thelaser protective glasses in our view is undoubtedly the most peculiar. But weshould also know that the use of laser is very important and very distinctive,but if not correct, the wrong method of laser application will also be on us,the formation of serious damage to the environment. Laser protective glasseshope we can focus on laser damage to the human body.
Laser damage tothe human body is mainly the eyes, followed by the skin.
(1)damage to eyes and vision laser can burn biological arrangements, especiallyfor retinal burns. Because the laser beam can be integrated into a very smallspot on the retina through the refractive system of the eye itself, the lightenergy is highly concentrated and causes the burn. The laser radiation in theinfrared or microwave region can be absorbed by the iris or the crystal to formheat damage, which can cause iris inflammation and cataract.
By shining laser eyes, can be a suddenglare, showing vision vague or appearing before the fixed shadow, and even lossof vision. Laser radiation damage to the retina is painless, easily overlookedby us. For a long time often exposure to small doses and diffuse reflectionlaser shine, the staff usually do not find damage from a vision, sometimesthere is usually neurasthenia, after work vision fatigue, eye pain, no specialsymptoms. Laser pair of eyes of accidental damage, in addition to individualattack permanent visual loss, most after treatment are not the same degree ofrehabilitation.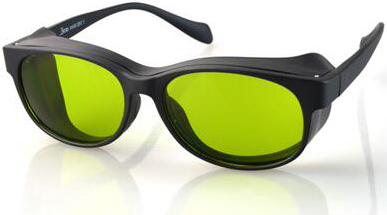 (2)on the skin damage to the skin laser showed mild erythema, burning processuntil the arrangement of carbonization necrosis, may also cause damage topigment cells, capillary embolism, sometimes visible stains and broken bloodvessels hemorrhage. Skin damage is usually reversible and reversible.
Laser damage is the most important of ourdays, we can find in the day the laser brings us different conditions anddifferent effects. We hope that in the future with the use of laser can findthe laser brings us special, found that laser brings us damage. But we must beobjective and reasonable view of the laser, so that the laser can be usedreasonably, do not deny the role of laser in the day to promote.
This paper provided by radium screenscience and technology, please indicate that radium screen technology provide , Laser safetyeyewear, , andother products, please login (lsys789.cn) consulting