Whatproblem should be paid attention to use eye protection products?
The employer's occupational healthmanagement for worker choose eye protection products, dealing with eye the hazardin the workplace and operating behavior identification and risk assessment:
(1) the work site may cause eye damagefactor is a single, or multiple factors coexist;
(2)the laborer may contact hazards exist in the form of solid particles, liquid,gas or steam;
(3)the material of eye may cause harm, is made by a certain device;
(4)work environment, such as impact ejecta, flying debris, the particle diametersize and flight speed, impact energy;
(5),production, use, transportation, loading and unloading chemicals, tounderstand: a) the volatile chemicals, irritating, corrosive, whether there isa high temperature, etc.; B) possible contact: infiltration, splash, jet,splash; C) the contact frequency; D) contact time. E) state of existence:particulate matter, gases, steam or liquid. F) packaging forms, etc.;
(6)in the workplace, whether there is any harmful light source;
(7)the type of the welding operation, for example, whether the gas protectionwelding, tungsten arc welding, laser welding;
(8)job site for bystanders or collaborative staff, etc.
In addition, the change in the layout ofthe workshop, reconstruction of process, equipment, and so on and so forth, therisk assessment should be again; Even if has not changed, also should beperiodically evaluated.
Eyeprotection products have?
Eye face protective equipment is used forprotection of some high speed particles impact as well as the prevention ofsmoke, dust, heavy, metal sparks, and flying dust, heat, electromagneticradiation, laser, factors, such as chemical splash damage eyes or face theindividual use of protective equipment.
Eyefacial protection articles a lot of more phyletic, according to the protectivefunctions, can be roughly divided into safety goggles, microwave, laser gogglesgoggles, dust mask, anti chemical goggles, welding gear, anti high temperaturesurface with the eye screen, the brace face screen, prevent chemical surfacescreen, red outside screen and respirator comprehensive cover, etc.
Thefunction of the common eye protection products and its applicable scope
(1)safety protective glasses: the most common eye protection appliance, particleat low speed impact resistance, has the protection on the wing. Some safetyglasses through special craft processing, can also be some optical radiationprotection, or used in some special occasions, such as protection from thepartial color lenses can light, amber lenses can improve the contrast and theline of sight, is mainly used in machining, metal cutting, gravel, impact worksites.
(2)safety goggles: it can fit closely on the wearer's eyes, to provide moreprotection range at the same time, have a better ability to resist shock.
Eyemask can also be used for protection of other hazards, such as dust and splash,matching filter can also be used for protection of some low energy welding orcutting cutting of optical radiation, such as gas welding or as weldingauxiliary equipment. Safety glasses can be further subdivided into directventilation type, indirect ventilation type and closed type.
Direct ventilated mask, good ventilationeffect, can effectively prevent eye inside of fog, can be used this type ofpatch for protection of chemical liquid and harmful gas or steam splash damage;Indirect ventilated mask, which can be used to large particles of dust andchemical splash, the vents are designed to have ventilation performance, aswell as protective liquid and particle intrusive features; Closed type eyemask, no vents for eye protection gas or steam stimulation, at the same timecan also be protective liquid splashes and fine dust damage to the eyes.
(3)the protective face screen: in certain business environment, the use of safeprotective glasses, protective goggles may still be unable to meet theprotection requirements, such as need more protection area, cover the entireface, and protective glasses or goggles impact resistant ability isinsufficient to the impact of the possible hazards on site. Surface screen cansolve these problems, the maximum impact resistance, and its protection scoperanges from brow to chin. It should be pointed out that surface screen oftenonly as auxiliary protective gear, due to its relatively open design, in orderto ensure safety, wear surface screen when need to wear safety glasses orgoggles at the same time.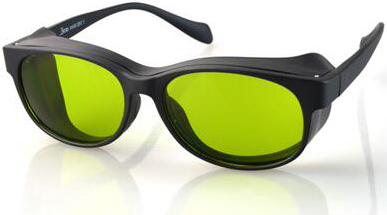 (4)welding eye surface protective equipment: from the style is divided intowelding goggles, passive protective face screen, automatic light weldingsurface screen and so on.
Through a special filter, can effectivelyprotection welding operation to produce light and ultraviolet and infraredradiation damage to the eyes, at the same time ontology matching surface screenor helmet protect facial eyes from spark, molten metal and metal particlesplash damage. It's important to note that different filter have differentshading, shading, choice need to consider different job types used in thewelding and reference, and refer to GBT3609.2-2008 the occupational eye facialprotection welding automatic protection become light welding surface panelasked to choose matching anti-glare filter. Or directly select automaticallybecome light filter, it can be done in the process of welding automatic switching,bright and dark states welder's hands to liberation, arc starting moment nolonger punch, do not need to frequently put face screen, greatly improving theproduction efficiency, and make the welder to get more better protection.
(5)laser goggles: attenuation and absorption of laser energy, mainly used in laserprocessing, such as optical lab work sites.
(6)microwave goggles: microwave radiation, microwave workplaces is mainly used inradar, communication, etc.
(7)X ray protective glasses: X ray radiation shield, mainly used in the work placesuch as X-ray medical treatment, electron beam welding.
(8)perforated facial protection of respiratory protective equipment, namely therespirator comprehensive cover: the impact damage, and protective liquidchemical splash, prevent chemical gas or steam and dust on the stimulation ofthe eyes, or absorbed by the eyes. Is mainly used in need to breathe at thesame time and eye facial protection sites, such as chemical laboratory,petrochemical industry, pharmacy, machinery manufacturing and other industries.
This paper provided by radium screen science and technology,please indicate that radium screen technology provide , Laser safety eyewear, , and other products, please login (lsys789.cn) consulting