Theeye is frequently stimulated by the laser, and the advantages of laser glassesare the most sensitive part of the body. Because of the laser properties, theenergy can be highly concentrated in space and time. So use laser glasses tostrengthen eye protection. By focusing on the lens of the eye, the laser beamin the retina is nearly 100,000 times higher than the corresponding cornea. Itis conceivable that good eyes need us to protect them. The advent of laserglasses has helped more people to avoid laser damage.
Advantages:
Theprocess is simple;
Highvisible light.
Higherattenuation rates;
Thelight response time is 10 to 9 seconds.
Disadvantages: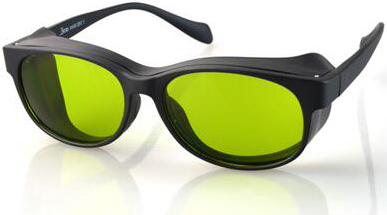 Thereis a serious selection of light sources. The incoming light source must beopposite the protective mirror (which is in the direction of the lens of thephotoscope), the protective effect is the largest, the less the least;
2,reflecting medium layer is easy to take off, and fall off after not easymacroscopic observation, it is also one of the most dangerous, a reflection ofdomestic medium layer loss can occur in a year or so. The higher the lightattenuation rate, the thicker the dielectric layer, the easier to fall off.Absorption goggles are added to the base material PMMA or P.C.
Advantages:
1,there is no selective light source, which is safe to protect all kinds ofdiffuse reflection.
Therate of decay is higher;
Thesurface is not afraid of wear and tear, even if there is friction, it does notaffect the safety of light.
Lightreactions are 10 to 9 seconds faster;
Disadvantages:low visible light. Laser glasses, in industrial production, such as laserengraving, laser cutting, laser medical treatment, etc.) can reflect or absorblaser radiation, to protect the eyes of a special-purpose glasses.
Ifwe don't find out how to solve the laser stimulation in time, our eyes will beaffected by the laser, causing the eyes to be hurt by different levels. Lasermonochromatic is very strong, the color difference is very small at the bottomof the eye. Because hurt by pulse laser much faster than the blink reflex (eyeblink reflex time usually is 150-250 ms, and can short pulsed laser to 10 ms),plus extreme moment, on a very small area, concentration of energy release,even low doses of laser irradiation can also lead to serious damage to cornealor retinal.
This paper provided by radium screen science and technology, pleaseindicate that radium screen technology provide , Laser safetyeyewear,, and other products, please login (lsys789.cn) consulting