Introduce the new laser protection of theeyes, perhaps said that you will think of a lot of laser laser, including thefilm's high-tech laser weapons and products, in fact, the laser has graduallyentered our lives, then for laser protection has become a Door professionaltopic, today we come to explore the laser protection of the eyes of the new andold.
Traditionallaser protection glasses, people who have seen it is no stranger to it and wecommonly known as the principle of sunglasses is basically the same, thatallows some specific wavelength (or color) of the light transmission into thehuman eye, the other wavelength (or color) Of the light, especially the harmfullaser absorbed by the lens itself and filtered out, which play a protectiverole on the human eye.
Forexample, the common wavelength of 532nm (nano) green laser hit the surface ofthe object, because the human eye is more sensitive to it, so the laser as longas a little brightness, we will feel dazzling, time for a long time the eyeswill feel dry.
Ifwe wear a red lens glasses, scattered to the human eye green laser will begreatly attenuated, the eyes will feel a lot of soft. If the better quality ofthe protective mirror, green light can be attenuated to the eyes of the lensalmost feel the extent.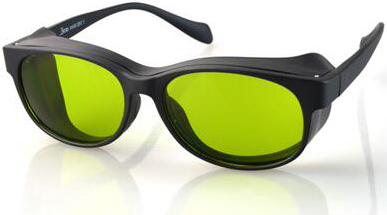 Forexample, for ultraviolet light with a wavelength of 300 nm or less, or aninfrared laser with a wavelength of 5um or more, we only wear an ordinary pairof glasses, and the scattered laser can not enter the eye, because the opticalmedium absorbs the attenuation of ultraviolet and infrared It is great.
Thedegree of attenuation of the for a particular wavelength ischaracterized by OD (OpticalDensity), the greater the value of the parameter,indicating that the attenuation of the laser is stronger, but even if it ishigh, it can not be 100% Attenuation, so when there is a strong scattering inthe laser, there will be a part of the laser through the protective lens intothe eyes.
Insome cases, there are even several different colors (wavelengths) of the stronglaser at the same time, although the use of neutral attenuator of the mirrorcan be different wavelengths of laser attenuation at the same time, but theattenuation can only be controlled in a certain range, If the attenuation istoo large, it may not see the laser that other objects. Therefore, thetraditional laser goggles on the human eye protection and ability is limited.